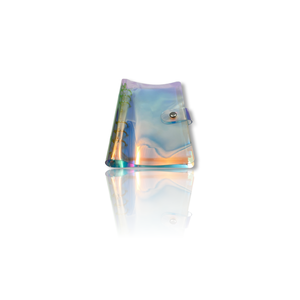 CreateSafely
"My Tai" MIDI PoKITbook
Regular price
$18.50
$0.00
Unit price
per
All orders will ship 3-5 business days after order is placed. Please email createsafely@gmail.com with any bulk inquiries (Department heads, keys, more than set limit) additional shipping fees may apply for bulk orders.
"My Tai" PoKITbook MIDI is a transparent holographic with every color of the rainbow including gold.
Includes: 1- PoKITbook MIDI  with 5 PoKITs. This new PoKITbook MIDI  is perfect for the storing the following:
Touch up kit

Storing Hair pins, rubber bands and more

Storing nail jewels, nail tools* Single use disposables- mascara wands, lip wands, eye liner wands, q-tips, lashes, eye patches, lip pencils, eye pencils, mascara and more

Endless possibilities with PoKITbook.

Provides maximum protection of your products and tools.

Stay organized with PoKITbook and save time.

Reusable and easy to clean and disinfect.
Dimensions:
5 1/2 " by 4"PVC
Metal Hardware
Non Porous material
Comes with 5 PoKITs
---